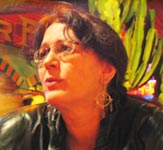 Carla van den Berg (1955) was born in The Netherlands, today she lives and works in the north of The Netherlands (Groningen). Carla started painting when she was very young. Her education and work experience are broad. Among other things, she completed the 'School of Fashion Designs' (Modevakschool) and did the teacher training on drawing and textile arts at Ubbo Emmius. On young age Carla was a student of Thaddeus van Eijsden ('Nieuwe Haagse School'). For 10 years she organized and taught courses on designing and making fashion, on the art of textile paintings, and on drawing cartoons. She has also produced cartoons for the VPRO gids (the radio and television guide of a Dutch public broadcasting corporation).
In the eighties and nineties Carla van den Berg focused most of her attention on textile arts and sketching with pastel. In those years, her textile portraits have been on display at different regional and group exhibitions. She started her own company CathDesign.nl in January 2001 and started the project KunstConcept.nl in spring 2003.
Carla has been a professional artist since the beginning of 2005 and has joined the BBK (Dutch Professional Organization of Visual Artists). She is associated with the "Oost-Groningen atelierroute" (art trail). Carla van den Berg is also co-founder of the East Groningen Artist Association "Kunst aan de rand van Nederland" (Art on the border of the Netherlands). Together with artist/musician Klaas Russchen, Carla lives and works in the former fire station of Bad Nieuweschans.
Visit www.carlavandenberg.nl as the personal site of Carla.